Manish Malhotra
, a name synonymous with sartorial elegance in Bollywood, is venturing into a new realm as he marks 30 years in the fashion industry: film production. A master of crafting iconic costumes for Hindi cinema, Malhotrahas recently initiated his own production house. Not only did he announce its inception, but he also teased fans with plans for not one but three forthcoming movies.
The inaugural film from Malhotra's production house is intriguingly named 'Bun Tikki.' Scheduled to commence production in November 2023, this project promises an ensemble cast featuring veteran Bollywood actresses
Zeenat Aman
and
Shabana Azmi
. The actresses, who have not shared screen space for a significant period, will be joined by the versatile
Abhay Deol
. Faraz Arif Ansari, a name known for his storytelling prowess, is set to direct this highly anticipated project.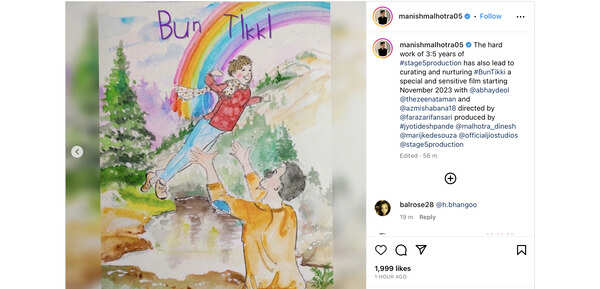 On Instagram, an enthusiastic Malhotra declared his excitement, crediting years of work at his recently created production house for cultivating and nurturing 'Bun Tikki.' He tagged all the involved actors and production members, further fueling the anticipation for this "special and sensitive" film. But that's not all from the design maestro.
Earlier in the year, Malhotra let slip his aspiration to don a new hat as a director. His chosen subject? A biopic on the legendary actress Meena Kumari. To bring the iconic actress to life on screen, Malhotra has chosen Kriti Sanon, an actress known for her depth and versatility. He took to Instagram to divulge his lifelong passion for the interconnected worlds of fashion and film, describing his evolution from a costume designer to an entrepreneur in film production.
In his social media post, Malhotra wasn't just sharing his journey; he was making a commitment. He pledged to focus on nurturing diverse artistic voices and to channel this energy into telling a multitude of stories through his new production venture.
With 'Bun Tikki' and the Meena Kumari biopic already in the works, Manish Malhotra is gearing up to offer new cinematic experiences. His initial focus appears to be on cultivating talent and curating unique stories, thus adding another layer to his multifaceted career.