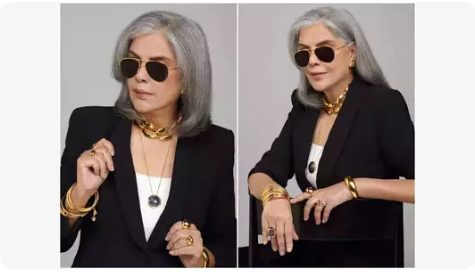 Zeenat Aman has become one of the most loved celebrities on Instagram. The diva, enigma and veteran actor, often doles out fashion and relationship advice on her account, that is truly inspirational.
Recently, in a candid conversation with Kusha Kapilaon her chat show "Swipe Ride", the actor had some dating advice for young girls where she requested them to exercise caution.
She said that she is really sorry to have to say this but she thinks young people should just hold on to their physical selves. She also advised young girls not to jump into bed with the guy right away, and wait to know each other. She further said that you yourself are very precious and one should not throw it all away.
In the same interview, the actor spoke passionately about the significance of financial independence for women.
Zeenat asserted that every woman should be confident and capable of financially supporting themselves. She believes that financial independence serves as a backup for women to take charge of their lives, enabling them to make informed decisions that align with their aspirations. With access to financial resources and opportunities, women can surmount obstacles, pursue their passions, and realise their goals and dreams.
Beyond the mere possession of wealth, Zeenat underlined that financial independence represents freedom-the freedom to live life on one's own terms, free from reliance on others. It not only fosters fairness but also empowers women to chart their unique life paths, evolving into their best selves.
As Zeenat Aman continues to inspire and advocate for women's empowerment, her words serve as a reminder that financial independence is not merely a financial goal but a transformative force that can uplift the lives of women everywhere.
Meanwhile, starting with a successful modeling career in the 70s, Zeenat swiftly transitioned to the world of films. Her early successes, including "Hare Rama Hare Krishna" and "Yaadon Ki Baarat," propelled her to nationwide acclaim. Zeenat continued to make her mark in the industry with iconic roles in movies like "Don," "Roti Kapda Aur Makaan," and "Laawaris."