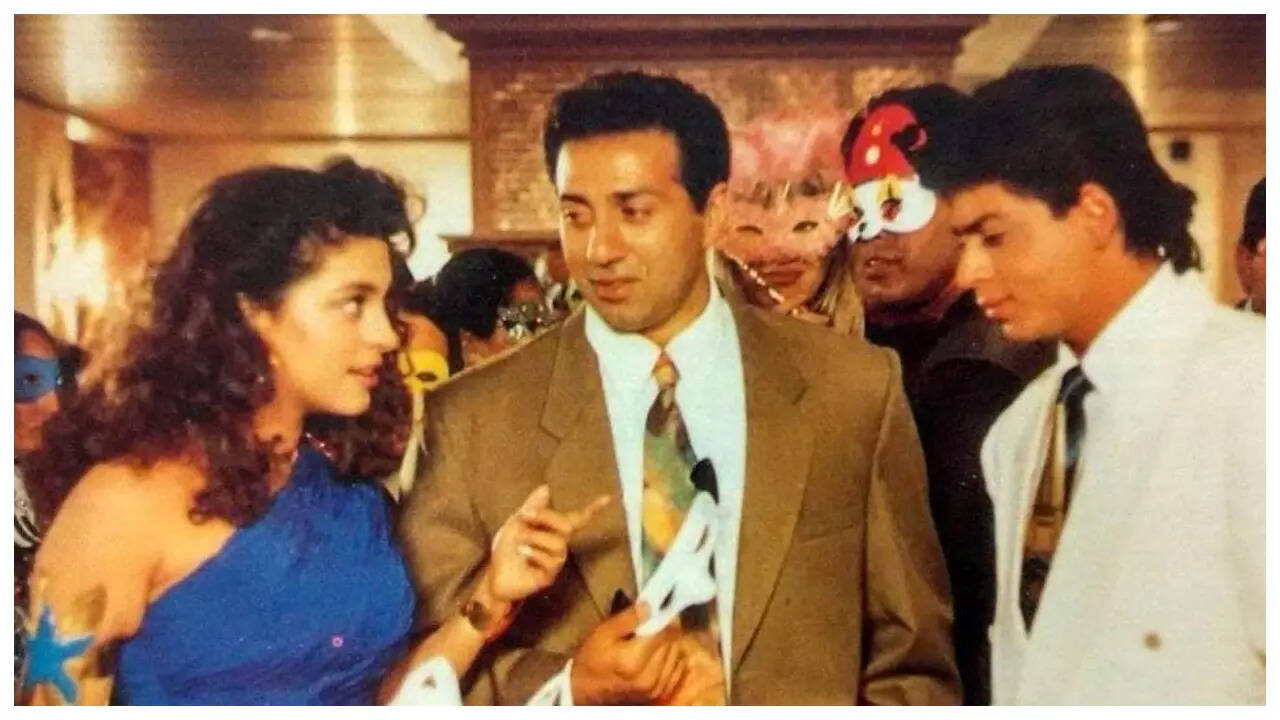 Shah Rukh Khan
and
Sunny Deol
delivered one of the biggest cult classics of Bollywood 'Darr', which was released in 1993. Post the release, SRK shot to fame for his villainous avatar and reportedly overshadowed Sunny Deol. The duo reportedly had a tiff and didnt speak to each other for 16 years!
Recently Sunny Deol opened up about his equation with Shah Rukh Khan and stated that they had buried the hatchet long ago.Sunny told Zoom that SRK called him to wish him for the success ofGadar 2. "Shah Rukh Khan had seen the film. Before that, he had called me and wished me well. He was so happy, and he told me 'I'm so happy, you genuinely deserve it' and I said Thank You. Then I spoke to his wife and his son. And he said tonight we are going to be watching this film. And after that, he had seen it, and I think that is when he tweeted. It was so beautiful," shared Sunny Deol.
Speaking about their reconciliation, he added, "Many times I've also called him up and we shared our thoughts on certain things. About the past issues – whatever they were, I would say time heals everything and we move ahead. That's the way life should be."
Celebrating the film's success, Sunny had thanked his fans and shared, "Hello everyone, first and foremost aap sab ko bohot bohot dhanyavad. Aaplogo ko Gadar 2 pasand aayi.. maine kabhi socha nahi tha. Humlog 400 cross kar chuke hai, aage bhi jayenge but yeh sab aap hi ke wajah se hua hai. Aap sabko film pasand aayi, Tara Singh pasand aaya, Sakina pasand aayi…pura parivar aaya, isiliye thank you thank you (Firstly, thank you everyone, you all liked Gadar 2. I never imagined we would cross Rs 400 crore and go ahead. All of this was possible because of the audience. You all liked Tara Singh, Sakeena and the entire family, so thank you)."
'Gadar 2' has managed to score over Rs 450 crore nett at the domestic box office and is inching closer to 500 crore. If the upward trend continues then 'Gadar 2' might dethrone Shah Rukh Khan's 'Pathaan', which stands at 500 crore currently. Directed by Anil Sharma, 'Gadar 2' narrates the journey of Tara Singh as he crosses the border to rescue his son Charanjeet, played by Utkarsh Sharma. Ameesha Patel reprised as Sakeena for the sequel.