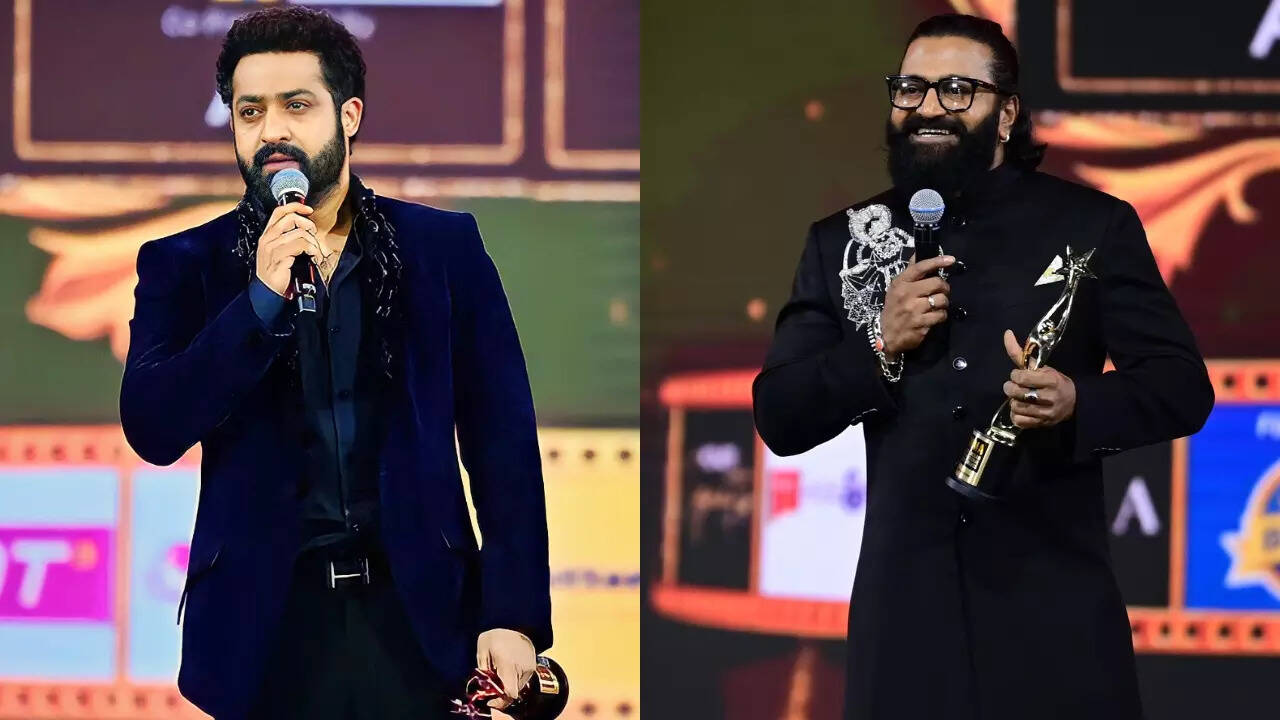 Jr NTR, the renowned Telugu superstar, has endeared himself to Kannada film audiences not just with his acting prowess but also with his deep connection to the Kannada language. The actor's proficiency in Kannada stems from his mother's roots in Kundapura, a town in Karnataka. Affectionately known as Tarak, Jr NTR has consistently showcased his love for the language and culture of Karnataka throughout his career.
Jr NTR's love for Kannada cinema goes beyond just his professional commitments. He has been vocal about his admiration for the industry and its talent. His admiration for Kannada actor Rishab Shetty, in particular, has been quite evident. After watching Rishab's film 'Kantara,' Jr NTR personally reached out to the talented filmmaker, a moment that Rishab describes as unforgettable. For Rishab, Jr NTR is not just a fantastic actor but also a beloved star with a special Kundapura connection.
Their heartwarming friendship was on full display at a recent film award event in Dubai, held on September 15. Rishab Shetty received a well-deserved award for his work on 'Kantara,' and Jr NTR was present to congratulate him. The two actors engaged in a quick, friendly conversation in Kannada, much to the delight of fans and the media. Videos capturing this exchange have since gone viral on social media, and translations in Telugu have further expanded their reach.
Rishab took the opportunity to express his gratitude to Jr NTR in person for his unwavering support. Jr NTR had previously felicitated Rishab and the team of 'Kirik Party' at the same event a few years ago, solidifying his status as a Kannadiga at heart.
In a heartwarming gesture, Jr NTR even lent his voice to a Kannada song titled 'Geleya Geleya' in the late Puneeth Rajkumar's film "Chakravyuha." This marked his debut in Kannada cinema, albeit as a singer, and further solidified his bond with the Kannada film industry.
One of the most significant expressions of Jr NTR's affection for Kannada came with his participation in the blockbuster film 'RRR.' In this epic historical drama directed by S.S. Rajamouli, Jr NTR not only wowed the audience with his powerful performance but also surprised them with his Kannada dubbing for his portions in the movie. This gesture resonated deeply with his fans and showcased his dedication to embracing the language.
Last year, the Karnataka government conferred the prestigious title of 'Karnataka Ratna' on the late Power Star, Puneeth Rajkumar. Jr NTR was one of the esteemed guests at the event. During his speech, he touched the hearts of many with his fluent and brilliant Kannada. He reminisced about Puneeth's charismatic personality and warm smile, emphasizing how Puneeth had won the hearts of people far and wide.