After dating James Milliron for a long time, Shama Sikander tied the knot with him in a dreamy wedding ceremony in Goa in 2022. In conversation with ETimes, the actress opened up about her love story with him, what attracted her to James and their bond after marriage. Excerpts…
Tell us something about your love story with James Milliron. How did love blossom between you two?
Well, I met James in Mumbai through a common friend and I met him at a time when I was really happy, very much in love with myself.I didn't feel like I needed anybody to complete me. And the first time when I decided I don't need to have any relationship, that's when the man of your life really appears in your life.Ever since he came into my life, we have not been apart even for a single day. I had never felt that kind of attraction and a pull from somebody before. I have liked people for various reasons. I have been very impressed by them also, but this guy, I wasn't impressed. I didn't even like him. I just felt this extreme pull towards him. And then as I spoke to him, I realised that I could have any kind of conversation with him. He was so easy. His ease just settled all my turmoil, if I had any left at that time. Our movies teach us that love is blind and that love turns your life upside down. But I realised true love is actually very settling, grounding and peaceful. That was the experience I had with James.
When we were together, none of us had to pretend anything. We were just simply sharing each other's life with such ease and no judgment and only love and only compassion. And we were both just so full of love and so ready to give that love to each other. And we still have that. I had seen enough relationships and I knew what I wanted and what I didn't want. I was very strong with my boundaries. If I don't like anything, I immediately just put a boundary and I say, no, this is not acceptable.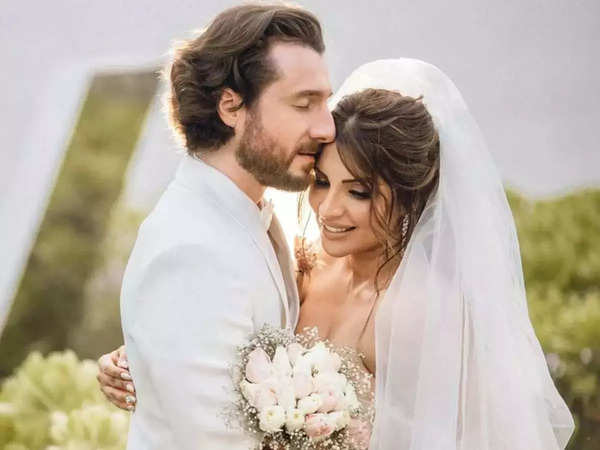 So here we are, married and grateful that we met each other in this life. We're very clear people. I love that, that we have this clarity as it helps us and our relationship. We know where we stand.
You both have been together for a long time even before getting married. Has marriage changed anything?
Well, not much. As I said before that we were both very committed from the very first day that we met, there was no confusion. We were just into each other. It was just a matter of us signing the paper and saying I do, but we had already said it from inside our heart. And I just feel that if there's anything that marriage has changed, then it has just made us more and more confident about each other, and brought us closer to each other. We really value our vows and we intentionally practice to keep those vows. I really think that our bond has only thickened and we've only become more and more loving and caring towards each other. I'm a family person. I love my family. So I get to interact with James's family more than before now, which is a great thing.