In a recent interactive session held on X, formerly known as Twitter,
Shah Rukh Khan
delighted his global fan base by answering a variety of questions under the hashtag #AskSRK. This session came just four days before the release of his highly anticipated film, 'Jawan', directed by Atlee and featuring a star-studded cast including
Nayanthara
, Vijay Sethupathi, and Sanya Malhotra, with a special cameo by Deepika Padukone.
Shah Rukh Khan's outreach event was seen as an intimate way to connect with fans and stoke enthusiasm for his film, which has been three years in the making. One of the most interesting questions directed at the actor was about whether he felt nervous as the release date for 'Jawan' approaches. Emphasizing his eagerness rather than any trepidation, Shah Rukh responded, "Now only excited that #Jawan will entertain as many as possible in the theaters! It's been a hard-worked journey for the last 3 years."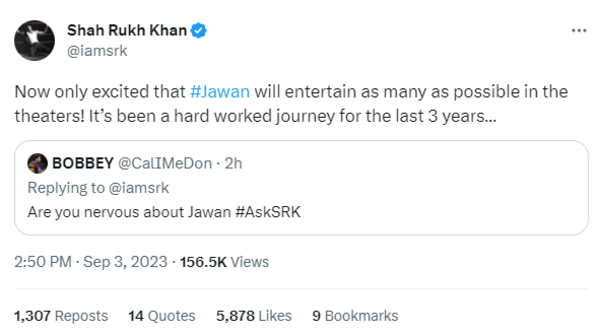 His upbeat reply suggested confidence in the project and a readiness to share it with audiences. Fans also sought to know personal tidbits, such as which songs from the 'Jawan' soundtrack were favored by his son AbRam. Shah Rukh Khan disclosed that the film contains a touching lullaby, or 'Lori,' but for him, the standout tracks are "Chaleya" and the film version of "Not Ramaiyya VastaVaiya."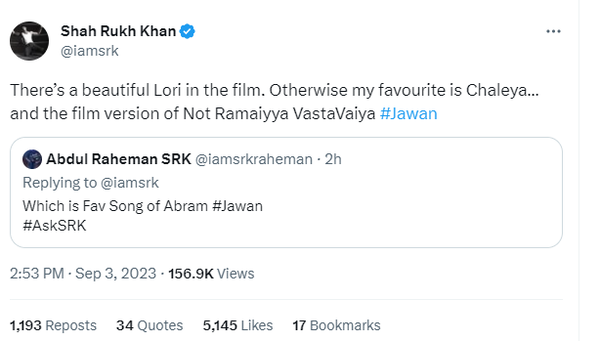 Shah Rukh Khan's wit shone through during the session as well. A fan humorously asked for complimentary tickets to 'Jawan' for himself and his girlfriend, labeling himself a "nikkama bf" (good-for-nothing boyfriend). Not missing a beat, Shah Rukh quipped, "Free mein pyaar deta hoon bhai….ticket ke toh paise hi lagenge!!" which translates to "I give love for free, brother… but tickets will cost money!" He advised the fan not to be cheap when it comes to romance and to go buy tickets.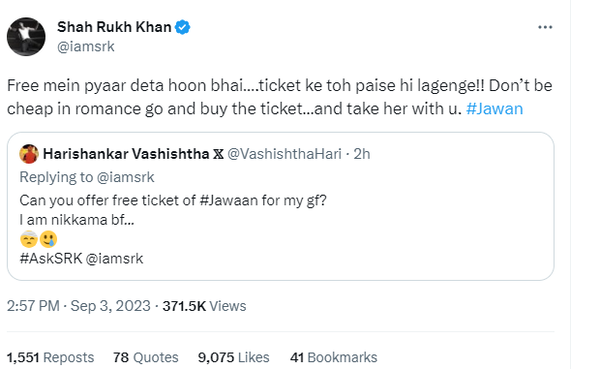 Adding to the anticipation surrounding 'Jawan', it was revealed that advance ticket sales are already open and an astounding 2 lakh tickets have been sold to date, indicating strong initial interest. Set to hit the theaters on September 7, 'Jawan' promises to be another feather in the cap for Shah Rukh Khan, whose brand of charm and wit was in full display during the #AskSRK session, whetting the appetites of fans who are eagerly awaiting the film's release.