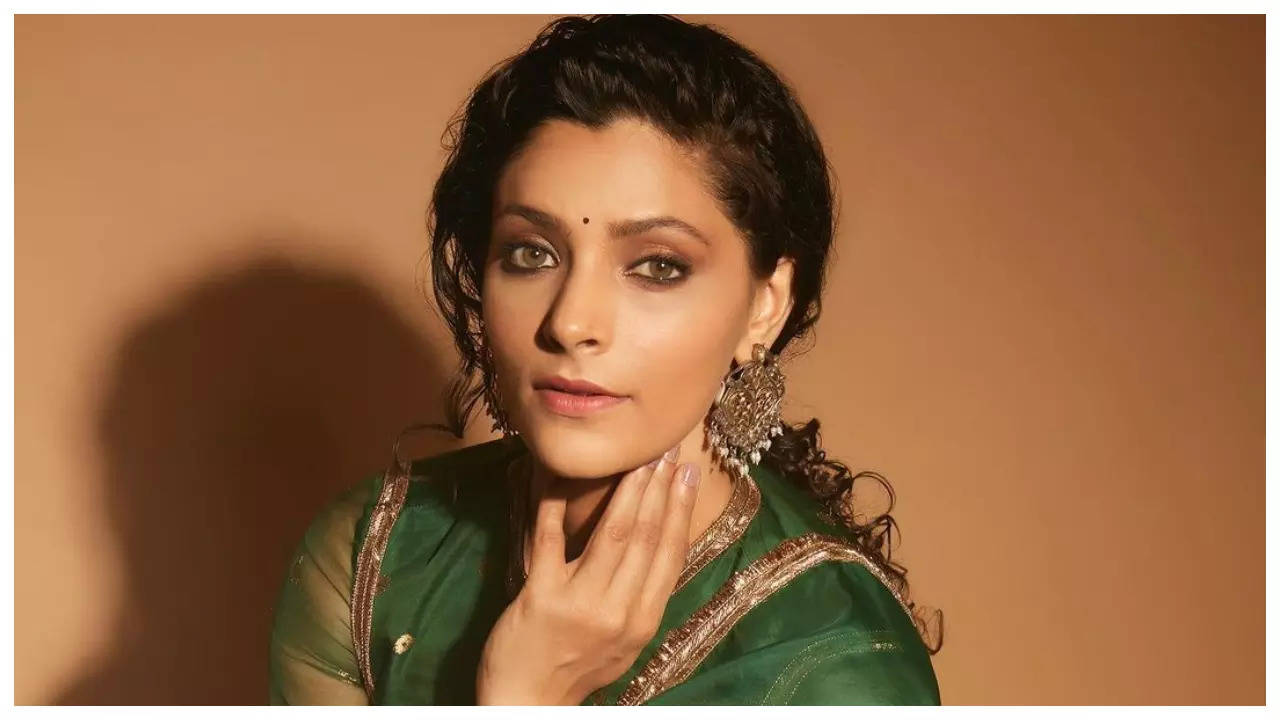 Saiyami Kher has very successfully created a niche for herself in the industry with her choices of films and performances. The actress, who is currently basking in the success of her latest film, 'Ghoomer', sat down with ETimes for a freewheeling chat. She spoke about coming from a film family, working with ace filmmakers and her idea of her ideal man.Excerpts…
You call yourself non-filmy but you come from a lineage of actors like
Usha Kiran
and
Tanvi Azmi
. How was it growing up in such a family?
I am totally non-filmy because my parents took us away to Nashik. I was born in Nashik. They wanted me to stay very away from the film world. So I was not allowed to watch films till I was 13 or 14 years old. My exposure to films only happened much later. As a child, I used to be running, swimming and playing different sports. I came back to Mumbai and studied in college. I used to work in my parents' restaurant. So our exposure was so different from what a filmy kid's exposure is. Which is why I feel like I am absolutely non-filmy.
Was it obvious for you to lean towards acting or did you have other aspirations?
I was not at all attracted to acting. I have played sports all my life. So acting was never on my mind. Even in college when I decided to act, my college friends were very surprised. I started doing theatre in college. My college had a very rich theatre culture. So I started doing theatre and auditioning for things. I realised that I really enjoyed the process. I am actually very reserved and pretty introverted. As an actor, you get to live so many lives, so many different lives. And you get to emote everything that's happening in life which I don't probably express very well. So I got to kind of do all that. For me, acting is very therapeutic. And I can't see myself doing anything else.
In one of your earlier interviews, you spoke about how you refused to adhere to the unreasonable beauty standards set by this industry. How important do you think it is for celebs like yourself to come out, acknowledge it and set examples?
I think it's very important. This profession comes with its responsibilities, I feel. So you should be endorsing what is correct. Being a part of this industry, I have faced this a lot. I feel you need to just be very secure with who you are. I think everyone is unique and special. So if you want to factory produce people who look the same way, then we'll all end up looking like robots from the same factory. I am completely a believer of being proud of your uniqueness that you've been blessed with. You should be able to flaunt it and be proud of what you are.
You have rarely spoken about your personal life. Is it safe to assume you are currently single?
Oh, I am very much single. I keep joking and saying that I wish Gulzar saab was 50 years younger. Because I am a big fan of Gulzar saab, but right now I am pretty much single.
So if not Gulzar saab, what is your idea of an ideal man?
Well, it is the combination of Gulzar saab, Sachin Tendulkar, Roger Federer. So it's very high standard. It should be somebody who is poetic, somebody who likes sports, somebody who is emotional, vulnerable, yet standing strong.
You have done a few but impactful projects in your career so far. How do you choose your projects?
I believe that your first film always chooses you, you don't choose your first film. So I was very fortunate that 'Mirzya' chose me. Rakeysh Omprakash Mehra sir chose me. It is unfortunate that it didn't do well at the box office, but it definitely put me out there in the public eye in a big way because it was a very big film. It's a film that I will always be very proud of. After that, because this box office thing is such a big determining factor, I didn't get offered big ticket films or big commercial films. But I was very happy with the stuff that I was doing with regards to projects like 'Breathe' or 'Choked' with Anurag Kashyap sir or like 'Special Ops' with Neeraj Pandey sir.
I feel that I have been very blessed to work with the best filmmakers in the country. When I choose something, it is not because I have a great screen time or anything. If I like my character and it takes the story forward, I am on board. So if I am not doing an author-backed role like 'Choked' or like 'Ghoomer', then I would like to pick a subject where my character leaves an impact and moves the story forward.
What's next?
I have finished another film with Excel Entertainment. It's called Agni. I am also starting something with Neeraj Pandey again, so I am excited for that.