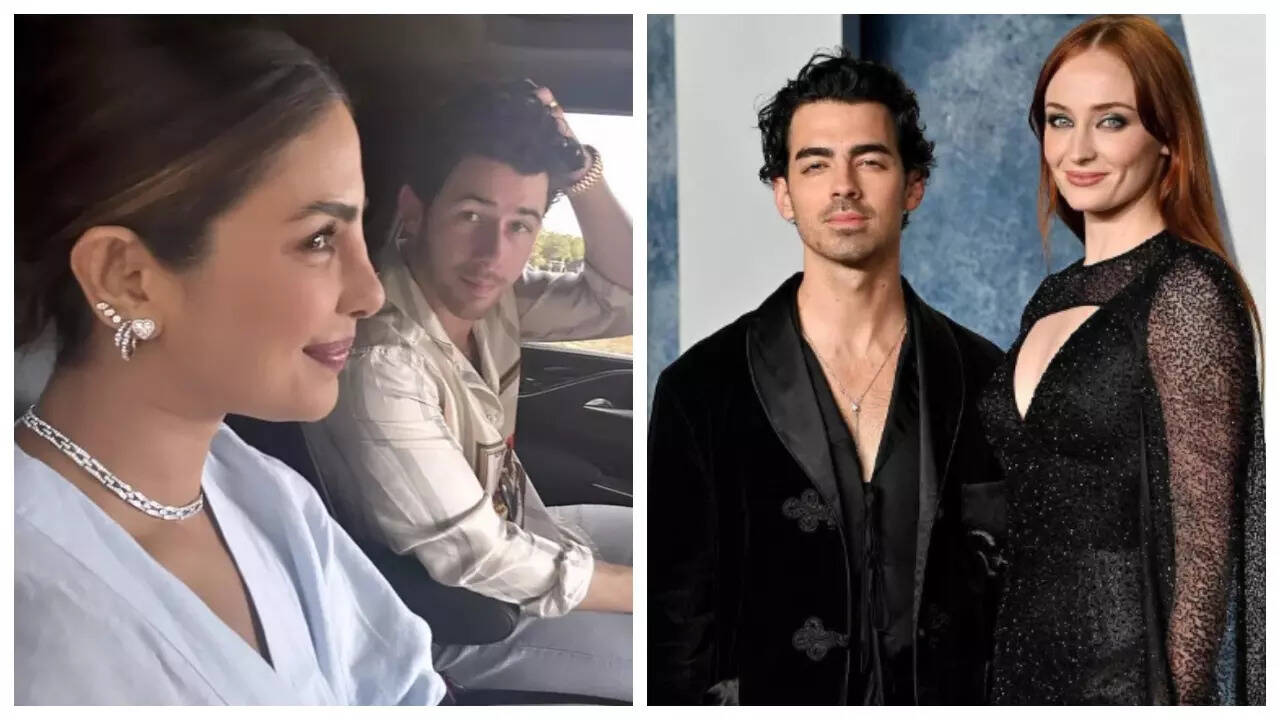 Priyanka Chopra found herself on the receiving end of social media trolls once again, this time for swooning over her husband
Nick Jonas
and sharing some happy photos of them together during 'The Tour'.
The actress on Tuesday, took to her handle to share some adorable photos of and with her husband, while the internet was buzzing with rumours around
Joe Jonas
and Sophie Turner's separation and impending divorce.The timing of the posts irked some fans and social media users who took to the comments sections to ask, "Is this a Joe shade?"
Another said, "Sophie Turner and Joe Jonas are divorcing hence the "can't read the room" from their sister-in-law posting happy marriage photos."
"Why is she doing the absolute most tonight," asked another.
Priyanka and Nick have been packing on the PDA during the Jonas Brothers' tour around America. The star couple had been spotted kissing, hugging and even serenading each other with romantic songs while on the big stage, surrounded by all their fans. While this is the first time that tabloids have alleged trouble in paradise for Joe and Sophie, Nick and PC have proved more than a couple of times that the allegations around trouble in their marriage were far from the truth.
Several social media users took to their handles to express their shock over the stars allegedly heading for a divorce and posted some nasty tweets about Nickyanka, saying, "Joe and Sophie getting divorced before Nick and Priyanka is so crazy to me."
"Can't believe Joe and Sophie are getting a divorce but not Nick and Priyanka like what," said another.
Others came to Priyanka's defence saying she was being 'targetted' by fans saying, "Sophie was 21 and Joe was 28 when they got together, but besides that, i hate seeing everyone hate on priyanka."
Others interpreted the photos differently saying that the actress was sending out a subtle message to all concerned fans that she was not parting ways with her husband. "She actually just said: no divorce for this brother," a fan wrote in a tweet.
Another said, "Priyanka be sending out a big f**k you to everyone saying "Priyanka-Nick next" under reports of Joe Jonas & Sophie getting divorced."
Joe Jonas and actress Sophie Turner are reportedly heading towards a divorce, TMZ reported over the weekend. Sources with direct knowledge told the portal that Joe had his people contact and consult with at least 2 LA-area divorce lawyers and he is on the cusp of filing divorce docs to end his marriage to Sophie.
As per the sources, the couple has had "serious problems" for at least 6 months. "We're told over the last 3 months, Joe has been caring for their 2 young children 'pretty much all of the time', even as his band was touring. We're told Joe currently has both kids, as the group plays around the US," reported TMZ.
On the surface, there appear to be no symptoms of problems. Joe and Sophie have gone on a few occasions together. However, Joe has been seen without his ring in recent weeks. Furthermore, they recently sold their Miami mansion. They only bought that place a year ago and sold it swiftly for a good profit.
Joe and Sophie met in 2016 and engaged a year later. They married in Vegas style in 2019 and have been living the family life ever since, soon welcoming their first child in 2020 and another in 2022. In four years, a lot has occurred to them.
According to TMZ, professionally, Joe and Sophie have been busy. He's gone on tour with his brothers recently and is scheduled to perform through the winter. Sophie's done some TV and movies in recent years but isn't nearly as active as she was during her 'GoT' days.