Actor and casting director Piyush Raina is currently on cloud nine for playing Saiyami Kher's brother in R Balki's Ghoomer. He will be next seen with
Shah Rukh Khan
and Taapsee Pannu in Rajkumar Hirani's Dunki. In an exclusive conversation with ETimes, Piyush spoke about his experience with
Abhishek Bachchan
, Saiyami Kher, R Balki, Shah Rukh Khan, Taapsee Pannu,
Rajkumar Hirani
and his casting and acting journey.
Goomer has received a positive response from the critics and audience as well…
I'm feeling wonderful. I've all heard good things about the film. Everybody's liking it. The youth is liking it. I went with my family and friends to watch the film in a theatre and everywhere people were loving the film.
How was your experience with Saiyami Kher?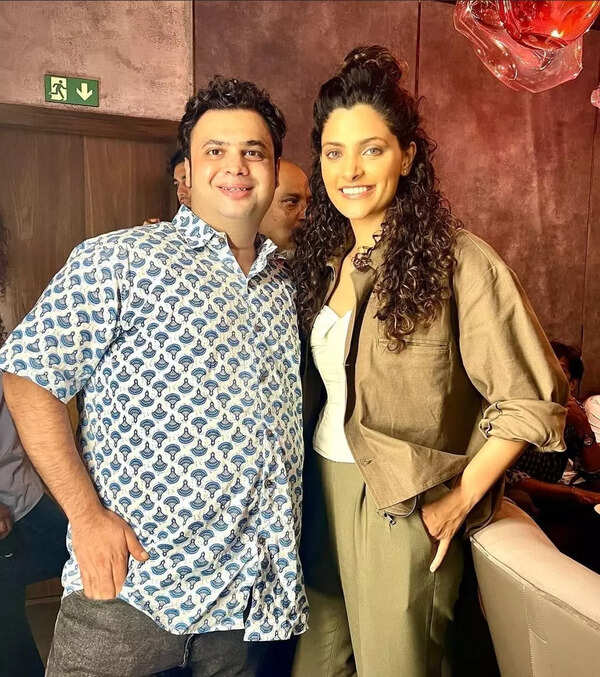 Saiyami was incredible. She was so sweet to work with and we had a great time bonding as brother and sister for the film. The bond was very special and throughout the process, we were like a family only. We were living the moment with Saiyami, Shabana ji, and other cast members. R Balki sir made sure that we all look like a part of the same family.
And how was it with Abhishek Bachchan?
It was great with Abhishek. He is a phenomenal actor. Unfortunately, he didn't have any scenes with me, but he was very sweet when we met on the set. He used to come and sit with us, have lunch and he was involved in the process throughout.
What about R Balki?
R Balki is a man who captures everything very naturally. He doesn't tell the actor what to do and what not to do. He gives the direction in the starting. But he observed what the actors were getting into and he got the natural ambience that he wanted.
Was it like a dream come true for you to work with him?
Yeah, it was a dream come true. I have been looking forward to working with R Balki for so many years. And since we both were from advertising – I'm a casting director in advertising. I've worked with Gauri Shinde as a casting director and we belong to the same group of people – it was always there in my mind that I want to work with R Balki. Shabana ji was also a blessing for all of us. She was so sweet. I enjoyed it a lot. And I'm so happy to be a part of this cinema.
How did you get into acting and casting?
So there's a theatre administration called Sanskar Rang Toli in the National School of Drama Wing. I used to do theatre with them. Mukesh Chhabra was my teacher at one time. And that's how I learned theatre in my life. That's where I started. My father was also supportive throughout. He wanted to be an actor. But he could never do it. He was a government employee. So, he couldn't do it. So, he always had in his heart that I have to do something for my son. He used to support me a lot whether it is education, taking me to all the production houses. At that time, there were very small production houses in Delhi. We used to take four photographs and used to sit in different places. And then we used to get a call from there. We used to do two-session serials. So, that's how my journey started.
And then, casting basically happened when I was producing a few serials in Delhi. At that time, Chrome Pictures was a production house and Amit Sharma was directing something. So, he came up to me and said, do casting for us. And luckily, the casting went well because I knew the actors and the casting process also. So it started from there.
And gradually, we moved forward in our lives and we came to Bombay after that. I started gaining experience as an actor. I still remember, there was a film called Fukrey and Honey Trehan was casting at that time. So, he met me and auditioned me for the role of Choocha. I was one of the finalists but because my weight was too much – I was 135 kg – that role eventually went to Varun Sharma. I have given a lot of auditions for big films and finally Ghoomer was one of those films. Two or three scenes of mine were cut but it was beautiful. The journey was beautiful. Shruti Marjan had contacted me for this. The dream of becoming an actor was from childhood. Because apart from becoming an actor, I had not thought of anything else. Being a Kashmiri Pandit, it is said that you should be well qualified. When I was in 10th grade, I told my family that I will go to Mumbai and become an actor. I don't want to do all this. So, gradually I did my graduation in Bachelors of Journalism and Mass Communication from Guru Gobind Singh Indraprastha University. I did it for my father who is no more now. He passed away when I was in the first year of my college. That was the journey where I stood up on my own. I had to do things on my own. I used to do my college and train kids in acting.
Do you still face problems with your weight?
Not anymore. I have made fitness my main focus. I work out for 3 hours every day. I have given priority to fitness in my life. And it's fun because I get some time for myself in the gym. Actually, I got Ghoomer because of my weight.
You are doing Dunki as well. How has your experience been?
Dunki has been a very good experience. I wanted to work with Rajkumar Hirani for the longest time. This is a jackpot in life. He is such a humble human. When you stand in front of him, it feels like we have known him for a long time. He is so good-mannered.
And how was it working with Shah Rukh Khan?
So, I was called for this film at the very end. Actually, I was locked in for some other character. But then Raju sir saw me again and said, 'I want you to play Bobby'. So, Bobby is basically a Dhabawala. And he is basically in this film throughout. I can't tell you much about it now. But he wanted me to play that. He did a screen test again with me and told me that this is a good character. And there is a little action in it. And suddenly one day someone from Hirani's team asked me to come to Mannat. Until then I didn't know what my role was. I went there and met Shah Rukh sir for the very first time in my life. We practiced with him in his gym and we talked a lot in between all these things. I realised that Shah Rukh sir is very beautiful. He has done a lot for me. He was taking care of me. He is so humble. He is one of the best actors in the industry.
What kind of roles would you like to play in the future?
I am not looking at myself in comic roles in the future. I want to do some serious roles. I want to do everything that requires some brain which is a little creative. I have already done ads, films, and the web. I am a producer as well. I have produced a lot of ads which are quite popular in the industry. I have done casting for around 1200 ads in total. I have been in the industry for around 12 years now. When I was a child, I did a lot of small serials for Doordarshan. It has been a very beautiful journey because I have learnt something from every single thing, whether it is casting, my graduation course or doing acting workshops with kids. Every day was a learning experience. Every day was a struggle.