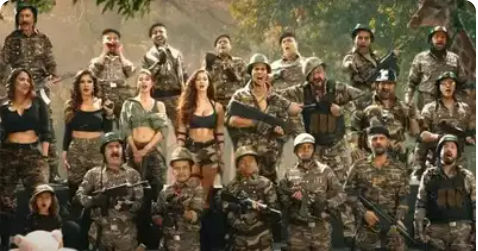 The Federation of Western India Cine Employees (FWICE) recently made an appeal to Jyoti Deshpande, C.E.O, Viacom 18 and other actors-technicians of Firoz Nadiadwala's Welcome to the Jungle (also known at Welcome 3) to act upon the producer to pay the balance amount of filmmaker Anees Bazmee, whose cheques have bounced. Notably, a non cooperation was already issued against Firoz Nadiadwala by the FWICE three years back .
Read Also
"Kabhi helicopter se…": Ajay Devgn shares hilarious birthday wish for Akshay Kumar
On his 56th birthday, actor Akshay Kumar received a hilarious wish from his co-star Ajay Devgn. Ajay shared a still from their movie 'Sooryavanshi' and jokingly mentioned Akshay's rescue skills. Other Bollywood celebrities including Katrina Kaif, Riteish Deshmukh, Tiger Shroff, Kareena Kapoor, and
Akshay Kumar shares hilarious 'Welcome 3' teaser on his birthday, film to release in December next year
Akshay Kumar unveiled the teaser for 'Welcome To The Jungle' (Welcome 3) on his 56th birthday, igniting excitement among the cast and crew. This star-studded ensemble includes Sanjay Dutt, Arshad Warsi, and others, with a theatrical release scheduled for December 20, 2024. The film, a part of the
Not only that, the FWICE has written to all actors of Welcome 3 including Akshay Kumar and Disha Patni, asking them to not shoot for the film, unless producer Firoz Nadiadwala clears the pending dues of technicians of Welcome 2.
Speaking to ETimes, BN Tiwari, President of FWICE said, "We have informed all the actors of the film, including Akshay Kumar and Disha Patni that the federation has issued a non- cooperation on Firoz Nadiadwala for defaulting payments, and that they should not shoot for the film unless pending dues of Rs 2cr is cleared for the technicians."
Tiwari further stated, "Firoz Nadiadwala had paid the technicians of Welcome 2 in 2015 and the amount was about Rs 4cr, which was later reduced to Rs 2cr. However, Nadiadwala stopped payment of the cheque after we deposited it."
He added, "we issued non-cooperation in 2015, but will implement it now, as he has finally begun work on his next film and we will not allow him to shoot it till the payment is cleared. "
Earlier, while he celebrated his 56th birthday on September 9, Akshay Kumar also teased his fans with an exciting glimpse into the much-anticipated film 'Welcome To The Jungle' (Welcome 3). The unveiling of the teaser stirred the excitement of both the cast and crew, who united to participate in a special 'capella video' released by the makers.