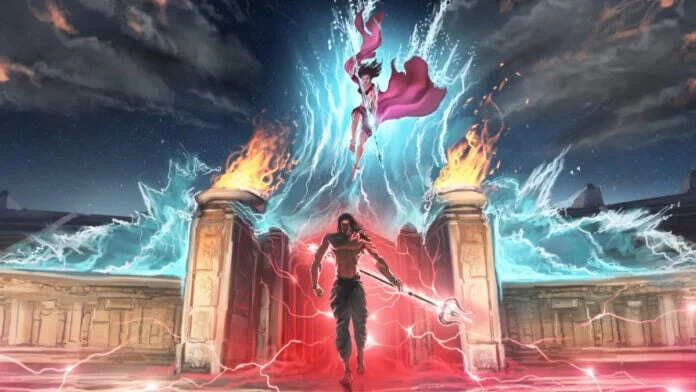 Ayan Mukerji's 'Brahmastra Part 1: Shiva' has marked its one-year anniversary since its release, and the director has unveiled an exciting surprise for fans to commemorate this milestone. This mythological fantasy adventure film features an ensemble cast including legendary actor
Amitabh Bachchan
, the talented
Ranbir Kapoor
, and the versatile
Alia Bhatt
in pivotal roles. Ayan Mukerjirecently shared early concept artwork for 'Brahmastra Part 2', titled "Dev," sending ripples of excitement throughout the fan base.The artwork prominently showcases the characters of Dev, Shiva, and Amrita, hinting at the grandeur and mystique that await audiences in the sequel.
'Brahmastra Part 1' unraveled the complex relationships among these characters. Dev is revealed as Shiva's father, and Amrita as his mother. The central plot revolves around the quest to safeguard the Brahmastra, an immensely powerful celestial weapon. Amrita valiantly battles Dev to protect the Brahmastra. The narrative is skillfully narrated by Amitabh Bachchan's character, Guruji, who serves as both a mentor to Shiva and an expositor for the audience. Amrita ultimately sacrifices her life to save Shiva and prevent Dev from obtaining the weapon. However, despite being a lifeless statue in the present timeline, Dev's malevolent essence manages to orchestrate the retrieval of the weapon's three crucial parts through Junoon, a formidable entity.
The climax of Part 1 witnesses Shiva's heroic triumph over Junoon as he gains control over the Brahmastra, driven by his unwavering love for Isha. Nevertheless, the film concludes with a tantalizing tease regarding Dev's character, hinting at a potential resurrection. Ayan Mukerji has remained tight-lipped about the actor portraying Dev, heightening the anticipation among fans. The recently unveiled concept artwork offers a glimpse into Dev's enigmatic persona. It depicts Dev engaged in combat atop a horse, confronting a formidable adversary. This portrayal raises intriguing questions about the nature of Dev's role in the narrative and the identity of the ominous figure he confronts. Additionally, the artwork features Shiva wielding his fiery powers against Dev and Amrita utilizing her polearm weapon in a clash of epic proportions.
As 'Brahmastra Part 2' looms on the horizon, fans can anticipate a storyline pitting Shiva against Dev and Amrita, possibly across different timelines. Part 1 had hinted at Deepika Padukone's potential role as Amrita, Shiva's mother, although no official confirmation has been made by the actor or the filmmaker. Speculation regarding the actor portraying Dev has ranged from Ranveer Singh to Hrithik Roshan, yet fervent fan belief leans towards Ranbir Kapoor as the formidable antagonist. The concept artwork, although enticing, shrouds Dev's visage in mystery, leaving fans eagerly awaiting further revelations about this pivotal character. The anticipation for Brahmastra Part 2 continues to build, promising an epic clash of titanic proportions and a quest for the ultimate power, the Brahmastra.