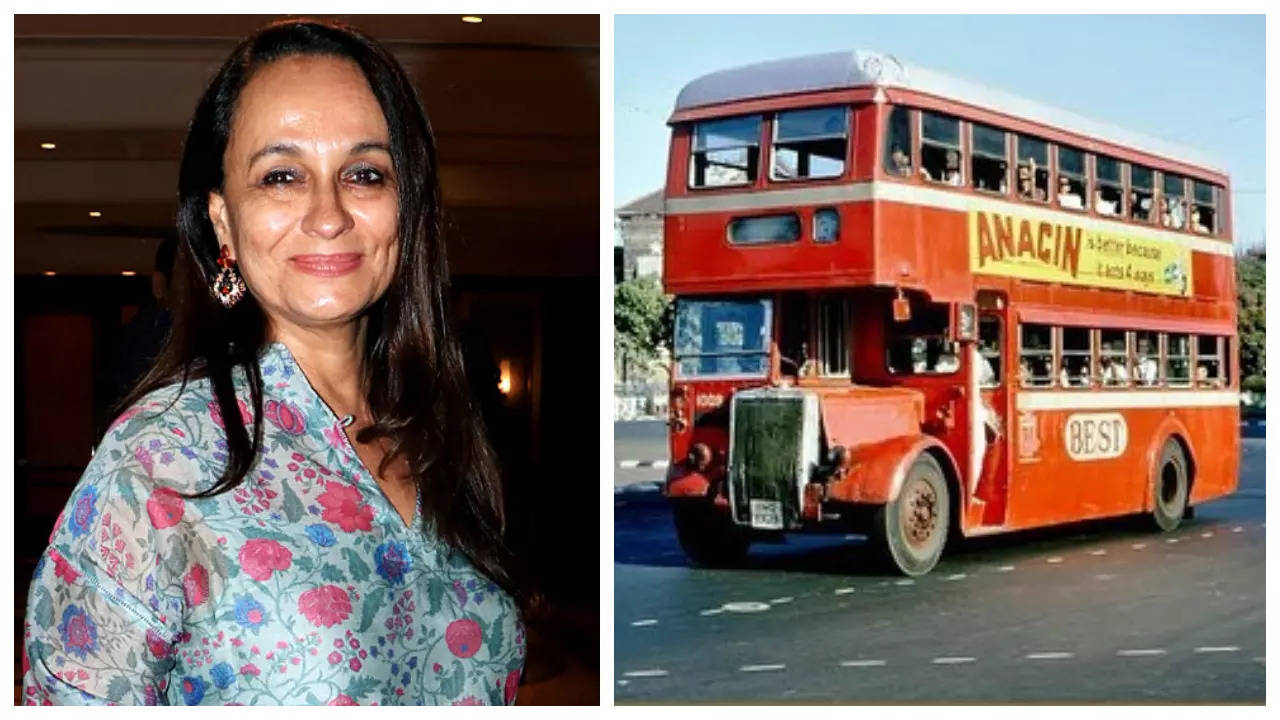 Mumbai's iconic double-decker BEST buses were taken off-road recently after eight decades of service. Soni Razdan recently shared a long emotional note bidding goodbye to them on Instagram.
Check out the post here:
She wrote, 'And one more icon bids us adieu. Bombay's and Mumbai double-decker bus of yore, which I grew up with … and which I used every day going to college and to meet friends in Colaba.
Read Also
As Mumbai bids adieu to its iconic Double Decker buses, here's revisiting Bollywood's love affair with the trademark red ride that encapsulated the city's milieu for decades
When it comes to Bollywood, whether it is about Mumbai ki baarish, cutting chai, local train, vada pav or Double Decker buses, many movies have captured the true essence of the city on screen, replete in all its glory, idiosyncrasies and the indomitable human spirit
Shah Rukh Khan REACTS to Mahesh Bhatt and Soni Razdan going on a movie date to watch 'Jawan': 'I'll do more movies soon so u guys can go on such dates more often'
Shah Rukh Khan thanked Soni Razdan for her praise of his latest film 'Jawan' and promised to make more movies so that she and her husband can go on more movie dates. Soni, in response, expressed her excitement and love. Fans also showered praise on SRK for his versatility and ability to fit into any
Still remember the thrill of clambering up the noisy stairs and finding the front seats empty. The streets looked fascinating from there'.
Elaborating further, she added, 'Just one ride gave one so much food for thought. I remember the proximity to some buildings in crowded streets and many a time would get a glimpse into the rooms yonder. Life was teeming in every direction where people went about their day … be it eating or cleaning or getting a child ready. In some streets dancing girls would be practising, in others people hanging out of their windows watching the world go by while I watched them all, fascinated.'
In conclusion, she wrote, 'If I had been an artist all that would have been my inspiration, and my 'houses' would be works of art in some gallery somewhere by now. Maybe some inherited affinity from my architect father perhaps! Nowadays may not travel by the lovely new ones, but I fondly remember the old. Bye bye Bombay busses.'
As soon as she shared the post, likes and comments poured in from all sides. Aahana Kumra commented on her post, "So we'll put @sonirazdan." Sandhya Mridul wrote, "Ohhh this post made me sad.. well said Soni ji.. sad to hear this aaaaaah!"
While one fan wrote, 'Exactly my thoughts. Nostalgic. Beautiful memories of childhood." Another said, "Gosh your words stirred so much nostalgia!', another one added, '@sonirazdan 'upper deck front seat' is a common theme for many of us Bombaywallahs!! Judging by this post, you should start writing and would be a great author.' A fan also commented, 'Red Dbl decker remember that bunking school for a joy ride to Juhu beach…just 5 Naya Paisa(sic).'