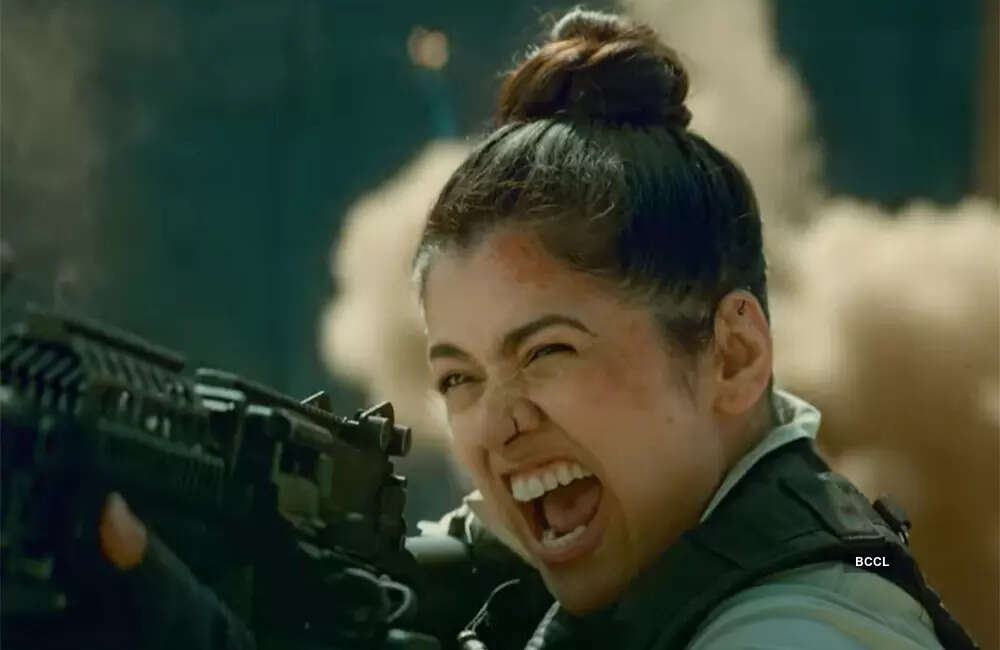 Synopsis:
A masked vigilante (Shah Rukh Khan), sets out to accelerate some right societal changes, in his own ways. He along with his army of super heroic women, work towards enabling justice by taking on a dangerous arms dealer Kali (Vijay Sethupathi).
Review: In Atlee's ambitious action drama, SRK is a jailer moonlighting as a vigilante, but he is also Captain Vikram Rathod, a patriot. What is his story? Expect ample twists and turns in this tale of desi Robin Hood and his tech-savvy, gun-wielding angels. Jawan is peppered with Money Heist, Squid Game, The Dark Knight Rises and The Lion King references but topping it all, is a heady mix of SRK-Atlee tadka.
To begin with, no one seems to be having more fun than Shah Rukh Khan, in his action hero era. The romantic Raj and Rahuls have finally released SRK from their magnetic spell so he can wholeheartedly embrace the smouldering Pathaan and Jawan. Only SRK can use the James Bond line and give it his own twist. "Rathod. Vikram Rathod. Naam toh suna hoga?" Lover boy king Khan's tough avatar treads a new path. It isn't devoid of his soft, sensitive charm despite the vengeance and violence galore. The Bollywood superstar seamlessly slips into South sensation Atlee's universe, a rather new territory for him. Together, they entertain in this high-octane action thriller rooted in emotions and drama.
An ode to fatherhood and female power, Jawan's biggest victory is its ability to juggle the personal, political, and social statements. You get the hint when SRK tells his nemesis, "Bete ko haath lagane se pehle, baap se baat kar." He calling out the politics of religion and voicing his unwavering faith in democracy is the film's highlight and the part that is bound to get the most claps. Writers Sumit Arora, Atlee and Ramanagirivasan get the dialoguebaazi right even as the story rotates between several moods – humour, tragedy and revenge.
While Pathaan had all the style, Jawan raises the stakes with a story and purpose. The women get their moment in the sun too and aren't treated secondary to the hero, no matter how many SRKs join the party. Deepika Padukone looks beautiful and is solid in an extended cameo. While the brief romantic track between Nayanthara and SRK doesn't quite work, the girl squad comprising Nayanthara, Priyamani, Sanya Malhotra, Sanjeeta Bhattacharya, Girija Oak and Lehar Khan make their presence felt.
Promoted as an Anirudh (Ravichander) musical, the film's background score and songs complement its style and nature. Zinda Banda and Chaleya are the best in the lot, but the latter has the most abrupt placement. While there is nothing that distracts you from the plot that has a dime a dozen twists and turns, at 2 hours 49 mins, the film needed a tighter edit. For action buffs, there is ample adrenaline rush throughout the story.
To sum it up, Jawan is like a full on desi thaali. It has all kinds of flavour to satiate your taste buds. The reincarnation of 'action hero SRK' hits the sweet spot.